Sep
27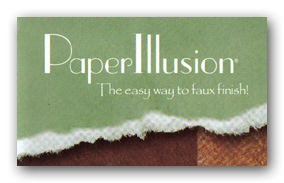 PaperIllusion (TM) by Village has been discontinued since 2010, but there is still a limited amount of stock available on a few patterns at WallpaperIllusions.com.
This paper has had a cult-like following for at least two decades, since it first appeared on the QVC Home Shopping Network.
After years of being made available in locally-owned wallpaper stores and larger home improvement chain stores across America, my husband and I discovered the beauty, ease and durability of the product and decided to launch our own website featuring this product line in 2005.
Shortly thereafter we began a discussion forum and blog to showcase all that can be done with PaperIllusion, called Paper It Fun! We absolutely loved this product! 
Over the years it went through some major changes, and we continued to champion the benefits of this unique product, but in time, the company that held the licensing decided to discontinue manufacturing it.
Presently, this paper still has a devoted following, and our hope is that it will become available again in the future. But for now, whatever stock we have in our warehouse is all we have to offer.
If you've never tried this product before, I highly recommend it. You can learn more about it at Wallpaper Illusions.
The pattern with the most stock available is Script Cobalt Blue, so if this color/design appeals to you, go ahead and snatch it up. (You may want to get extra, to have on hand for future repairs if necessary.)
The next readily available color is Hearthstone Bubble Gum.
After that, there is a moderate amount of Hearthstone Aquamarine and Hearthstone Ocean.
The color/designs with the least amount of stock available are Script Harvest Gold and Hearthstone Camoflage.
There is a newer version of PaperIllusion (TM) that came out under the design name Imperial, packaged in smaller rolls, but that line was discontinued in 2015, and we don't have any of that stock available at this time.
However, as a convenience to customers who have used either versions of this product before and may need smaller pieces to repair a previous project, samples of mostly every pattern are still available in varying sizes.
These can also be obtained at Wallpaper Illusions. So, if you're looking to do a project in this unique, easy and fun wallcovering option, or are in need of any remnants of this easy faux finish wallpaper, that's the place to go.
Comments